Publications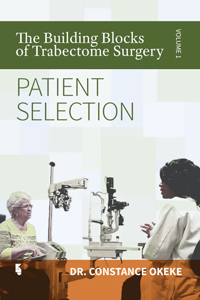 The Building Blocks of Trabectome Surgery
Volume 1: Patient Selection
Written by: Dr. Constance Okeke
ISBN:  978-90-6299-253-9
Published by Kugler Publications
Publication details: Book. 2017. xxx and 298 pages. many full color figures and photos. A5. Softbound.
---
Have you contemplated implementing a new MIGS surgical procedure but were hesitant to get started? Have you tried the Trabectome surgery and had difficulty getting the results you wanted? This book can help get you closer to your goals. This book focuses on Trabectome success through step-by-step coaching tips on patient selection. Technical skill in surgery is very important, but patient selection is also extremely important, especially when just starting, to ease in the transition of learning the new skill and obtaining great outcomes.
This publication is part of the The Building Blocks of Trabectome Surgery series.
---
Trabectome Success Factors:
https://www.ncbi.nlm.nih.gov/pubmed/28614223
Education Vital to Success of Collaborative Care Model:
http://eyetubeod.com/pdfs/0417_insert.pdf
Shifting Gears with Suprachoroidal Shunts:
https://millennialeye.com/articles/2016-sept-oct/shifting-gears-in-glaucoma-with-suprachoroidal-shunts/
Complicated glaucoma surgery management Cataract surgery and glaucoma management:
https://www.eyeworld.org/cataract-surgery-and-glaucoma-management
Let them Choose MIGS:
https://crstoday.com/articles/2016-may/let-them-choose-migs/
MIGS as First-Line Treatment?:
http://www.ophthalmologymanagement.com/issues/2016/february-2016/migs-as-a-first-line-treatment
Expanding Outflow with MIGS:
https://www.reviewofoptometry.com/article/expanding-outflow-with-migs
What's Hot in Microinvasive Glaucoma Surgery?:
http://eyetubeod.com/2015/12/whats-hot-in-microinvasive-glaucoma-surgery
Unexpected Challenges with Combined MIGS & Cataract Surgery:
https://crstoday.com/articles/2015-apr/unexpected-challenges-with-combined-migs-and-cataract-surgery/
Surgical Pearls and Pitfalls with a Trabecular Microbypass Stent:
http://glaucomatoday.com/2014/04/surgical-pearls-and-pitfalls-with-a-trabecular-microbypass-stent/
Tackling Glaucoma One Trabectome at a Time:
http://www.ophthalmologymanagement.com/issues/2014/february-2014/tackling-glaucoma-one-trabectome-at-a-time